Easy Slow Cooker Chicken Adobo
March 3, 2015 by Jen Balisi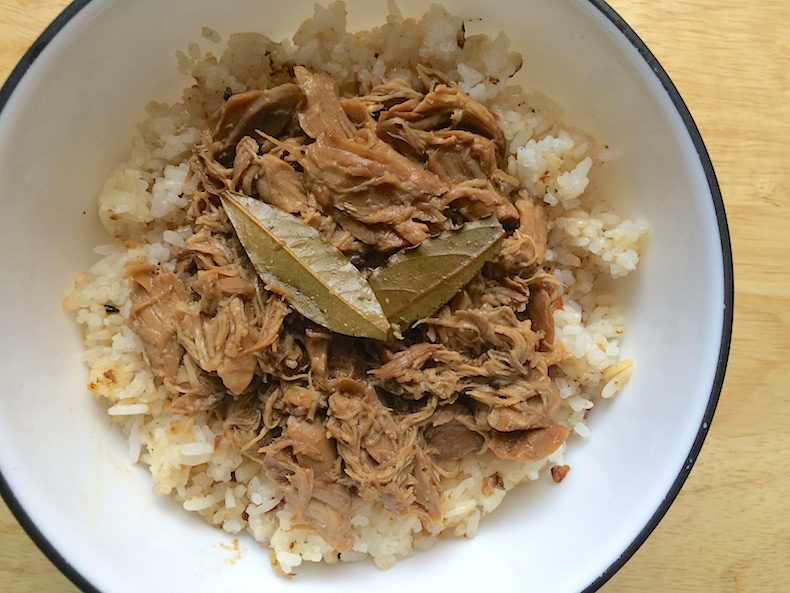 Chicken adobo is my all-time favorite comfort food. I have fond childhood memories of being in my room and perking up when the savory, pungent yet delicious smell of my mom making chicken adobo made its way from the kitchen to my nose. This happened on a weekly basis in my Filipino home, that it became instinct to immediately run downstairs to the kitchen in hopes that my mom was done simmering the chicken in the unique blend of soy sauce, vinegar, and sugar that makes chicken adobo so delicious. The best part came after the meal was over though, after I'd already stuffed myself with chicken adobo over fluffy white rice, because I knew that the leftovers the next day would taste EVEN BETTER after the flavors had more time to meld in the fridge. Now that I'm officially an adult though, I no longer rely on trips back to my parents' house to satisfy my regular cravings for Filipino chicken adobo. Instead I've done the ultimate "adult" thing and have taken advantage of my Crockpot to make this Slow Cooker Chicken Adobo which I now want to share with you.
I've found that investing in a slow cooker is one of the biggest steps in becoming a full fledged grown up. It involves preparation and planning ahead, and it means that you are now leading a life which requires 1) meals to be scheduled and 2) every task to be as easy and time-efficient as possible. While breaking out the Crockpot makes cooking easier in general, I like to think that this Chicken Adobo is one of the absolute easiest slow cooker recipes, which is why it fits so perfectly in my adult life. Unlike other slow cooker recipes which require you to brown or even marinate meat or cut up vegetables before it goes into the slow cooker, this chicken adobo is as easy as dumping everything in and setting the timer until you have your end product of fall-off-the-bone chicken adobo. Yes, you technically need to crush some garlic, but if you really want to go for convenience, crushed garlic is totally available for purchase. And remember what I said about chicken adobo tasting better as it sits? That means you can make a ton of it in your slow cooker and pack it away for meals to come (it freezes great!).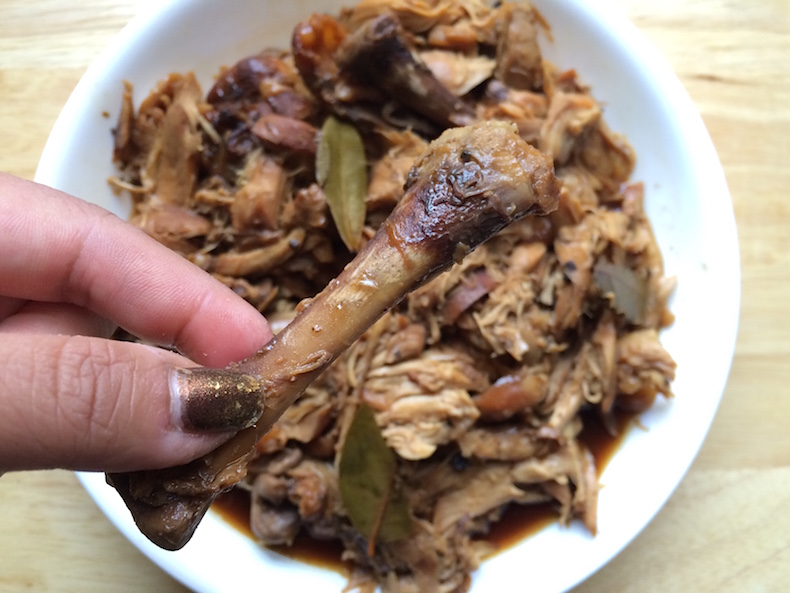 Now a note around authenticity: the fact of the matter is that EVERY chicken adobo recipe is different. Every household has their own special way of making this national dish of the Philippines, so there will always be variations, and someone could easily disagree with the recipe I'm presenting (which is based on my mother's). That said, there are 3 things I've never encountered in Filipino chicken adobo in my 25 years eating Filipino food:
Onions – this belongs in bistek, not adobo.
Ginger – again, used in other Filipino recipes (like tinola!) but not adobo
Anything besides cane or plain white distilled vinegar
That said, you can easily add these things if you choose or if you only have rice wine vinegar or apple cider vinegar, it's not the worse thing to use those instead. The final taste just may be different than if you were to order chicken adobo from a traditional Filipino restaurant.
Like most Filipino food, chicken adobo goes best with rice. While you can go for brown rice over white rice to go the healthier route (or even cauliflower rice!), you can also take it to the indulgent zone and have it with garlic fried rice (my ultimate fave). For a unique twist, I've also been eating it Mexican-style and making Filipino chicken adobo tacos by simply serving it in corn tortillas with raw onion, cilantro, and a squeeze of lime. By no means authentic, but it's a damn good way to celebrate #TacoTuesday. Regardless of how you choose to eat it, I hope you enjoy this taste of classic Filipino cuisine.
Easy Slow Cooker Chicken Adobo
This Filipino classic of meat braised in a vinegar-soy sauce is made easy by using the slow cooker to create fall-off-the-bone chicken adobo.
Ingredients
2 lbs. bone-in chicken drumsticks or thighs, skin removed
1/2 cup soy sauce
1/2 cup cane or white distilled vinegar
1 tbsp. granulated sugar
6 cloves garlic, crushed
2 bay leaves
1 tbsp. whole black peppercorns
Instructions
Combine soy sauce, vinegar, and sugar until sugar is dissolved.
Spread crushed garlic cloves, peppercorns, and bay leaves along bottom of the slow cooker. Layer on chicken, then pour soy-vinegar mixture to coat the chicken, turning chicken pieces to coat if necessary.
Cover and cook in slow cooker for 4 hours on high or 6 hours on low, or until chicken is falling off the bone.
Remove chicken from the slow cooker. Strain sauce, discarding the peppercorns, garlic, and bay leaves. Remove bones from chicken and add chicken back into sauce. Serve with rice or store in refrigerator for up to 5 days to allow chicken to continue to meld with sauce.
Notes
If you make this recipe, I'd love to see the final product. Tag your photos on Instagram with #moderateindulgence and @indulgenteats so I can see them!
http://indulgenteats.com/2015/03/03/easy-slow-cooker-chicken-adobo/