Cheesy Pesto Chicken Crescent Wreath with Roasted Cherry Tomatoes
December 21, 2015 by Jen Balisi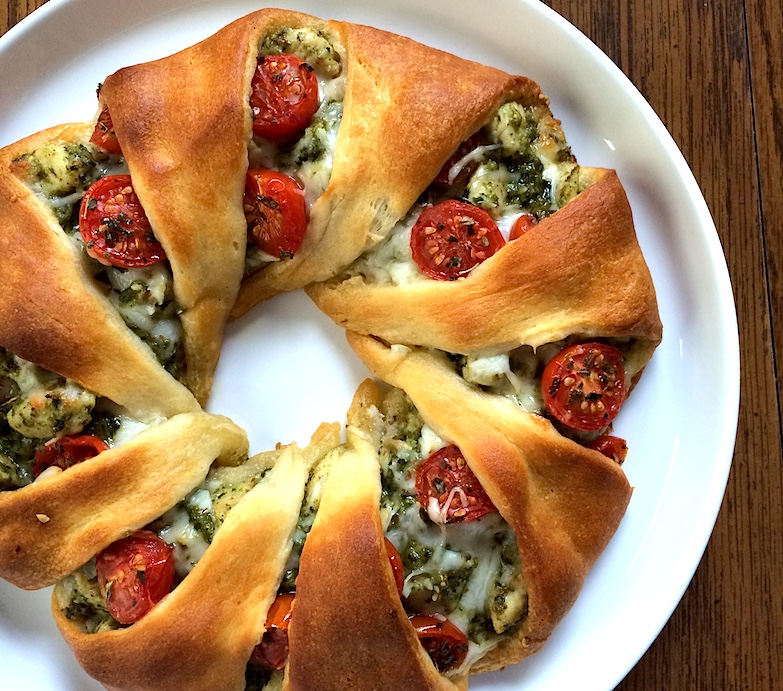 Maybe it's because I grew up making those Pilsbury break-and-bake holiday cookies, or maybe it's just because I love carbs – whatever the reason, I always find myself reaching for Pilsbury's buttery doughs when the holidays roll around. In recent years, I've upgraded from cookies to Crescent wreaths, which encase your desired fillings in flaky pastry and look totally impressive, despite actually being quite easy. I've made a crescent roll wreath to repurpose my Thanksgiving leftovers for the past 3 years, but decided that this year, it only made sense to make one for the holiday that actually uses wreaths. So to get ready for Christmas, I came up with the idea for this Cheesy Pesto Chicken Crescent Roll Wreath that uses a homemade pesto sauce to provide a green color as well as flavor. It also throws in dots of red from roasted cherry tomatoes that pair with Parmesan, mozzarella cheese, and grilled chicken for a delicious filling.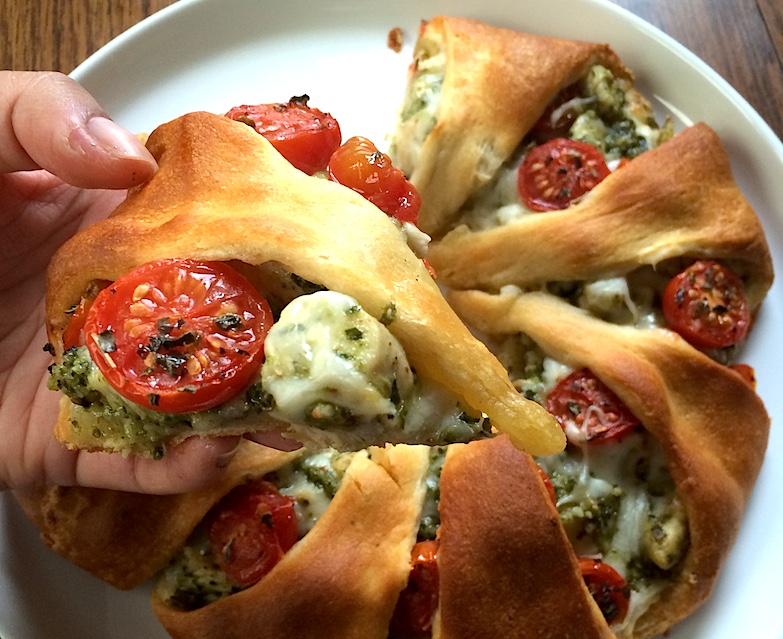 Making the crescent wreath starts with preparing all of the fillings. In this case, I halved cherry tomatoes and gave them a quick toss in olive oil and seasoning before throwing them in the oven to start roasting, then cooked up chunks of chicken breast while the tomatoes were in the oven. I also used fresh basil, Parmesan, walnuts, and olive oil to make a pesto sauce, though you could use premade pesto sauce as well. Next, you just need to unroll your can of crescent rolls and lay out the triangles like sun rays to form a circle in the center. Add your chicken, cheeses, pesto sauce, and cherry tomatoes before folding over the tips of the triangles to form the wreath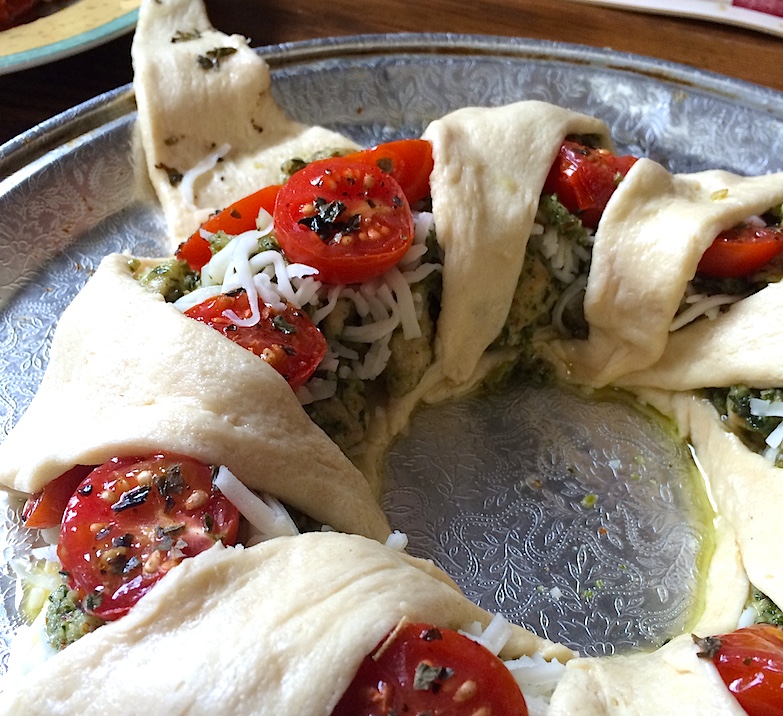 This crescent wreath is perfect for Christmas thanks to the red, green, and wreath shape, but with its classic Italian flavors you could easily enjoy it for any occasion. If you're entertaining, just double the recipe and use 2 cans of crescent roll dough to form a larger wreath. Once it's all done, just slice the crescent roll wreath into triangles and enjoy.
Cheesy Pesto Chicken Crescent Roll Wreath with Roasted Cherry Tomatoes
This cheesy chicken crescent roll wreath combines pesto and roasted cherry tomatoes for a festive green and red dish perfect for Christmas
Ingredients
1 tube Pilsbury crescent rolls
6 oz. cooked chicken breast, cut into cubes
10 cherry or grape tomatoes, halved
1/2 tbsp. olive oil
1/2 tsp. Italian seasoning or oregano/dried basil
1/4 cup homemade pesto sauce
3/4 cup shredded mozzarella cheese
2 tbsp. grated Parmesan
1 egg, beaten (optional - it provides a more golden crust)
Salt and pepper to taste
Instructions
Preheat oven to 375 degrees F
In a bowl, toss the tomatoes with 1/2 tbsp. of olive oil and season with the Italian seasoning, and a pinch of salt and pepper. Transfer to a baking pan and bake for 10 minutes, then set aside.
While tomatoes are cooking, combine the chicken breast, pesto sauce, Parmesan, and 1/2 of the shredded mozzarella cheese in a bowl and set aside.
Separate crescent dough into the precut triangles and arrange on a large pizza pan or cookie sheet to form a ring so that the corners of the shorter sides of the triangles overlap in the center, and the long points of the triangles shoot out like rays of a sun, like this. Press into the dough where the triangles overlap to even out the thickness and form a solid ring that you can fit the fillings onto.
Spoon the pesto chicken mixture onto the center ring of dough. Top with the remaining mozzarella cheese and the roasted cherry tomatoes.
Pull the ends of the dough triangles over the chicken mixture and tuck under the dough so that the filling is visible. Optional: Carefully brush dough with the beaten egg.
Bake for 25 minutes or until the dough is a deep golden brown and the cheese is fully melted. Slice into triangles and serve.
Notes
If you make this recipe, I'd love to see the final product. Tag your photos on Instagram with #indulgenteats and @indulgenteats so I can see them!
http://indulgenteats.com/2015/12/21/cheesy-pesto-chicken-crescent-wreath-roasted-cherry-tomatoes/