Breakfast Mac and Cheese with Baked Eggs
August 2, 2016 by Jen Balisi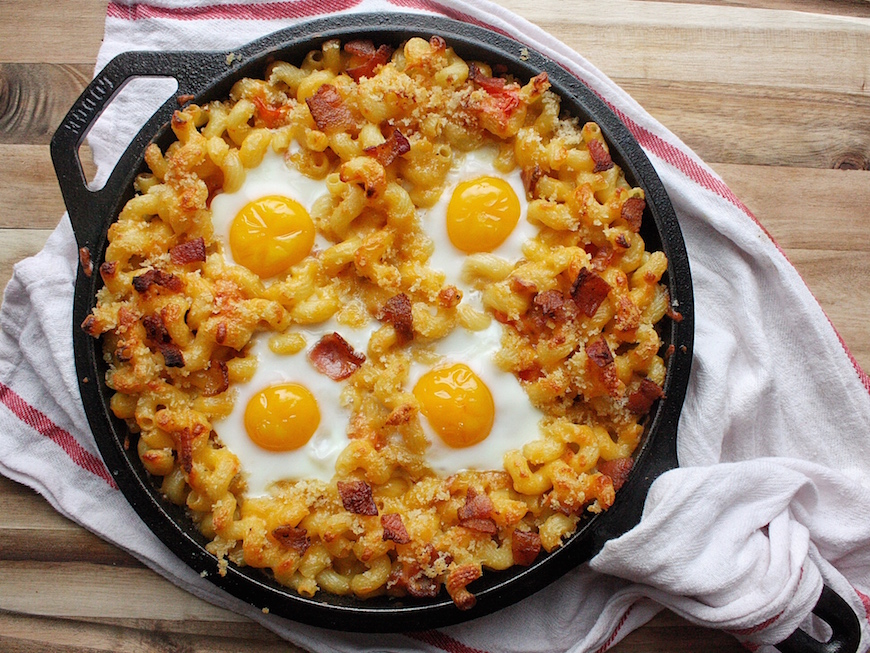 Honestly, can we just take a moment and admire the beauty of this thing? I've had the idea to make Breakfast Mac and Cheese with Baked Eggs for a while, but going out for brunch most weekends had prevented me from getting around to cooking it. Now that I've finally made it though, HOLY is this mac and cheese the perfect dish to add to the homemade brunch rotation. This recipe gives your standard mac and cheese the BEC (that's Bacon Egg and Cheese) upgrade.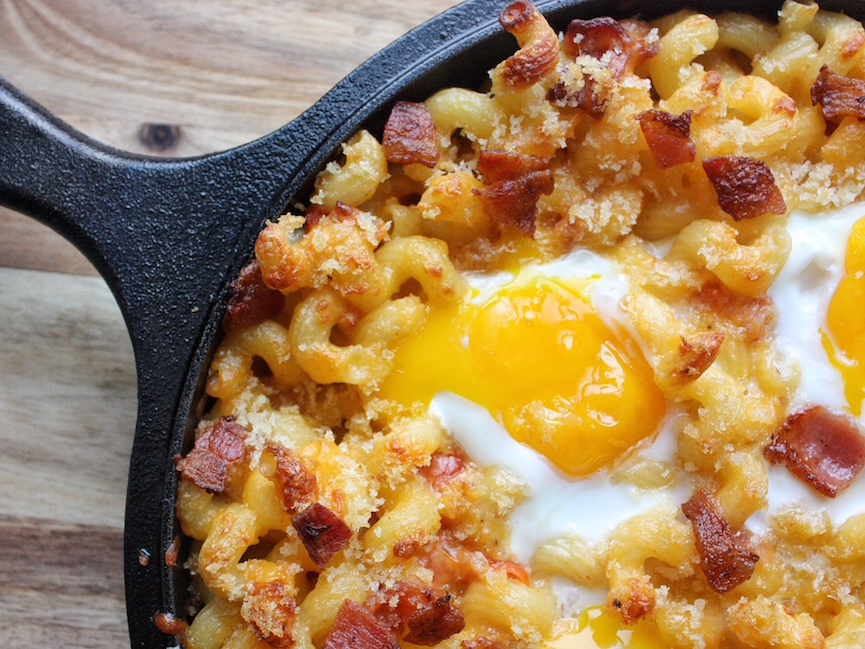 While most versions of breakfast mac and cheese I've seen throw a fried egg on top, I was inspired by shakshuka to instead cook the eggs directly in the mac and cheese so everything melds together into one wonderful masterpiece with runny yolks that you can spread right into your cheesy, bacon-y pasta. I also mixed in roasted grape tomatoes to pair with the bacon and add that perfect cut of acidity to balance out the richness of the dish. You could also try making this with a pesto-mozzarella cheese base or even with buffalo chicken instead – will work on posting recipes for those soon.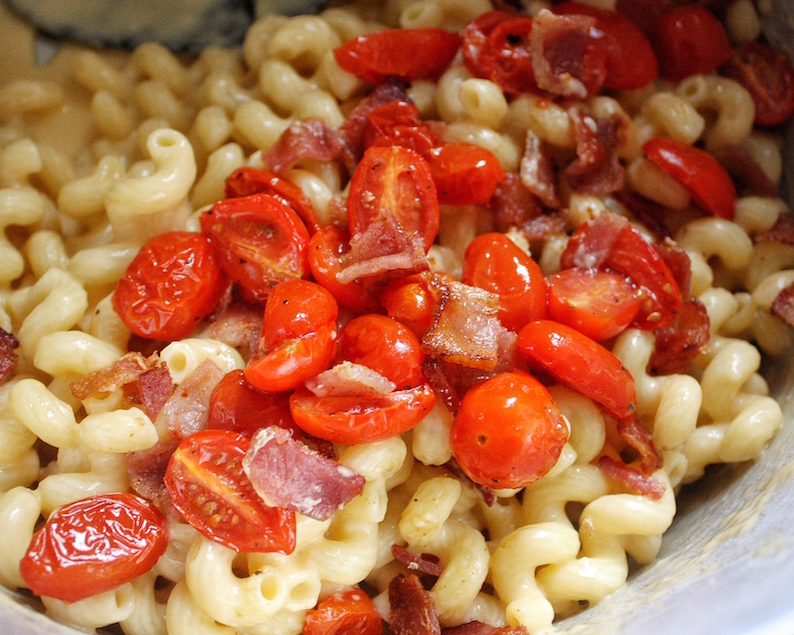 I'll admit, baking the eggs into your breakfast mac and cheese does take some extra effort, but the end result is so worth it! The whole process starts with crisping up the bacon and roasting the tomatoes in the oven, followed by cooking your pasta (I prefer cavatappi
) and making an oh so creamy sharp Cheddar cheese sauce.
Once you mix all those wonderful ingredients together and put it into your baking dish (or cast iron skillet
 as I like to use for a crispy bottom), you top it off with more cheese and some buttered-up panko breadcrumbs for extra crispiness (seriously, the crispy bits of this breakfast mac and cheese are the best part!). From there, you want to start baking the mac and cheese so the cheese can start to melt before you add the eggs.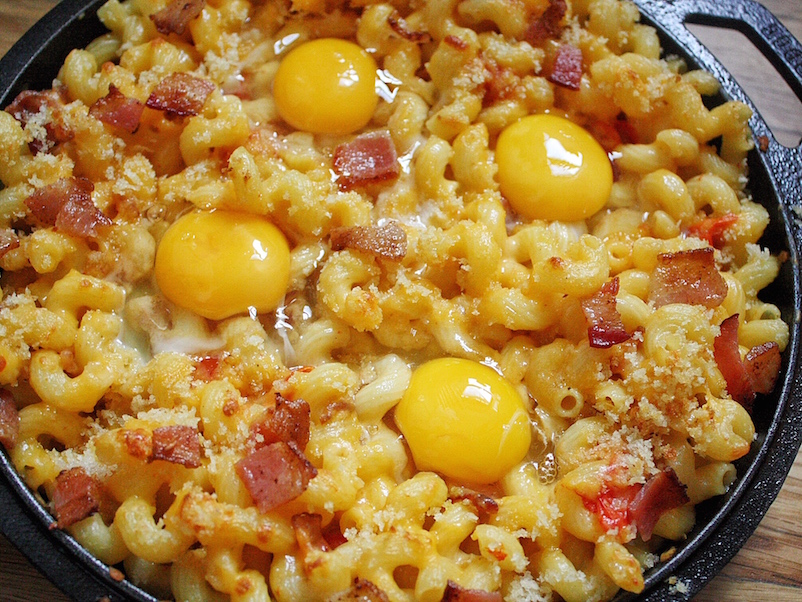 After giving the mac and cheese some time in the oven, take it out and use a spoon to make small wells, each of which you'll fill with an egg white. Throw it back in the oven for a few minutes, and take it out again and add the egg yolks after your whites have begun to set. The reason for baking the egg whites and yolks separately is that egg whites take a while to bake in the oven, and if you cook your whites and yolks at the same time, you almost always end up with non-runny yolks (sadness). Of course, if runny yolks aren't your thing, you can skip this process, but if pools of yellow-orange goodness cascading over cheesy macaroni are what you're looking for, you're gonna want to separate your yolks. This Breakfast Mac and Cheese with Baked Eggs is definitely a labor of love, but you get what you put in, am i right?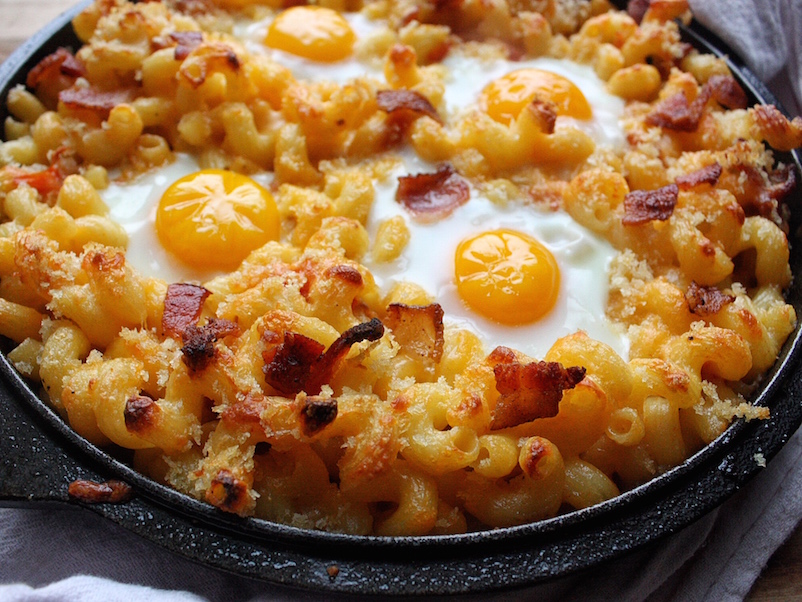 Breakfast Mac and Cheese with Baked Eggs
Mac and cheese gets the breakfast treatment with bacon, roasted tomatoes, and eggs baked right into the dish for a cheesy, crispy, gooey combination.
Ingredients
8 oz. of cavatappi or elbow macaroni (1/2 a standard box - double the rest of the recipe if using the entire box)
16 oz. sharp cheddar cheese, shredded
4 oz. grated Pecorino or Parmesan
4 strips thick cut bacon
Large handful of grape tomatoes, halved
1/2 tbsp. extra virgin olive oil
1 tsp. dried basil
1 1/4 cup whole milk, heated
3 tbsp. butter, divided
2 tbsp. all purpose flour
1 tsp. ground mustard
1 tsp. cayenne
1 tsp. each salt & pepper, more to taste
3 tbsp. panko breadcrumbs
Instructions
Preheat oven to 400 degrees F
Cut the grape tomatoes in half and toss with 1/2 tbsp. extra virgin olive oil, 1 tsp. dried basil, and a pinch of salt and pepper. Spread in a roasting pan and bake for 30 min. Set aside.
While tomatoes are roasting, line a baking tray with foil and lay a metal rack over the foil. Lay the strips of bacon across the rack and bake until bacon is golden-brown and crispy, about 15-20 min. (can bake at same time as tomatoes) Remove from oven and lay on a paper towel-lined plate to drain the excess grease. Then chop the bacon into small pieces and set aside.
Meanwhile, fill a pot of water about halfway and bring to a vigorous boil. Add the pasta and cook to al dente (about 2 minutes less than package cooking instructions). Drain and set aside.
Prepare the bechamel sauce: Heat 1 cup whole milk until hot but not boiling, about 2 minutes in the microwave. Melt 2 tbsp. butter in a small saucepan over medium-low heat, then gradually whisk in 2 tbsp. flour, continuing to cook and whisking constantly until golden brown, about 2 minutes.
Slowly pour in the hot milk, whisking constantly, until smooth. Bring to a boil and stir in the ground mustard, cayenne, salt and pepper, then lower heat and cook for 2 minutes to finish your creamy bechamel sauce.
Reserve a large handful of cheddar cheese. Add the remaining cheddar cheese and all of the Parmesan cheese to the bechamel sauce and stir until fully melted into a creamy cheese sauce.
Add the cooked pasta back into the pot, then pour the cheese sauce and stir until pasta is fully coated. Add 3 strips worth of chopped bacon and the roasted tomatoes and stir until just combined.
Transfer mac and cheese to a cast iron skillet or baking pan. Top with remaining cheddar cheese.
Melt remaining 1 tbsp. butter and toss panko breadcrumbs in butter to coat. Sprinkle breadcrumbs and remaining chopped bacon evenly on top of mac and cheese. Bake for 7 minutes.
While mac and cheese is baking, separate your egg whites and egg yolks, keeping the egg yolks in a large bowl or plate so they don't touch (I like to use a plastic bottle for this. If you don't care about runny egg yolks, you can skip this step).
Briefly remove mac and cheese from oven and use a large spoon to make 4 wells in the mac and cheese. Fill each well with an even amount of egg white. Bake for an additional 8 minutes (if you skipped separating your egg yolks, bake for 13 minutes). Remove from oven and carefully add an egg yolk into each well (again, use a plastic bottle to make this easy). Bake for an additional 3-5 minutes so crust is crispy, egg whites are set, and egg yolks are still runny.
Remove from oven and let sit for 3-5 minutes before serving. Enjoy!
http://indulgenteats.com/2016/08/02/breakfast-mac-and-cheese-with-baked-eggs/