Grilled Ribeye Steak and Watermelon Salad (Sponsored)
July 19, 2017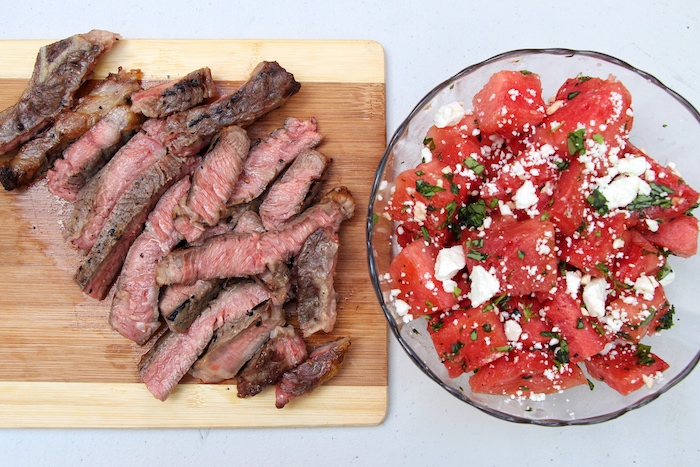 This post is brought to you by Beef. It's What's For Dinner on behalf of the Beef Checkoff. All opinions are my own.
Over 4th of July, I went down to my family's house near Long Beach Island in NJ. While I definitely got some quality beach time, including pit stops for seafood and drinks at a beach bar, the best part of the trip is always spent hanging out in the backyard by the grill. This time around, I got to grill a couple of my favorite ingredients: steak and watermelon. The two items separately pretty much scream summer, but most people wouldn't think to pair them together. By making this Grilled Steak and Watermelon Salad, you bring in sweetness that acts as a great balance to your juicy grilled steak, the same way you might have a side of caramelized onions or use a sweet and tangy steak sauce or Asian-style marinade on beef.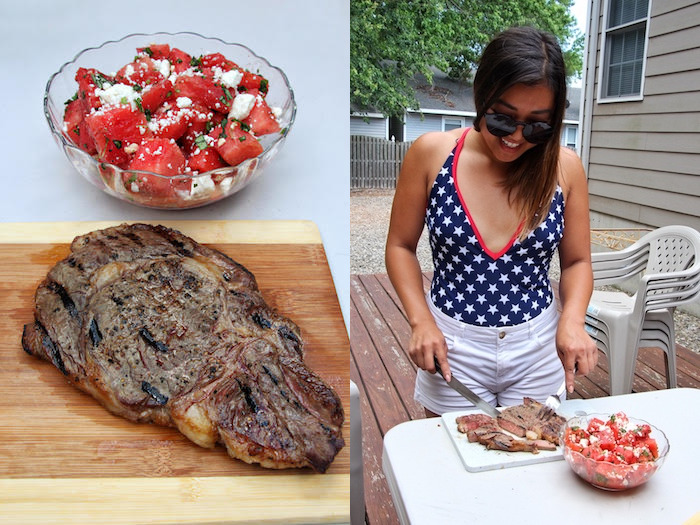 This Grilled Steak and Watermelon Salad is also perfect for that #summerbod. Instead of a butter-basted steak and potatoes, grilling your steak means you can use direct flames to deliver flavor and tenderness without the need for excess oil or butter. Beef itself is also rich in nutrients, like high-quality protein, iron, zinc and B-vitamins that help you stay active for whatever outdoor activities you get into this summer.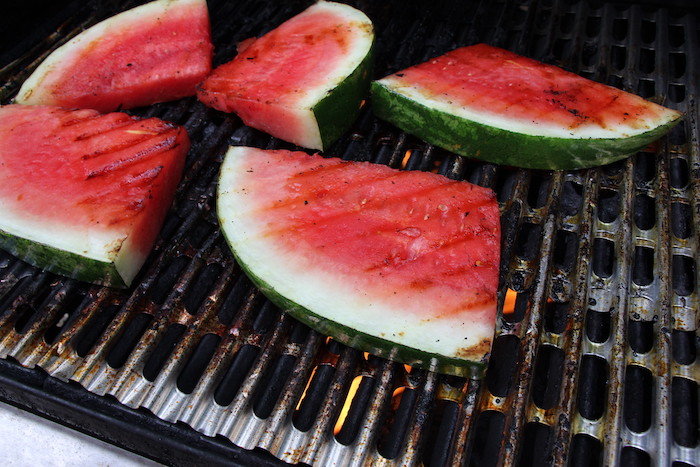 I love pairing the steak with this grilled watermelon salad to create a unique, healthy side. Grilling the watermelon itself brings out even more sweetness from the fruit, which then gets balanced out by some lime juice, feta, basil, and a sprinkle of chili powder for a nice kick to go with your steak.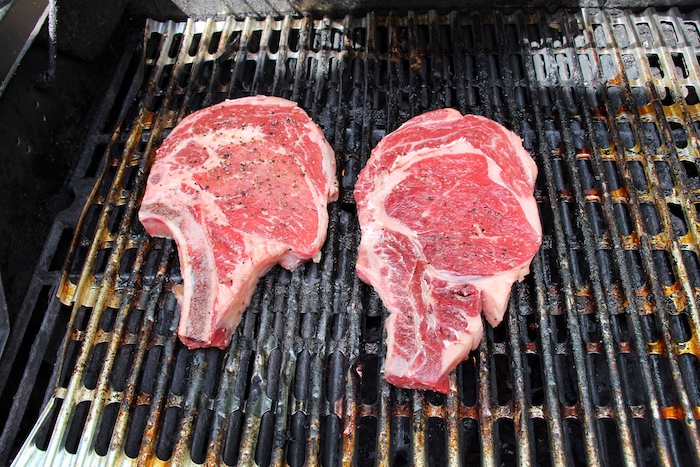 Summer is the perfect time to try a quality cut of beef since grocers offer their best deals on steak, particularly before big cookout holidays like 4th of July or Labor Day Weekend. We picked out a great yet affordable ribeye steak that had just the right level of marbling to provide a tender, flavorful steak that didn't feel heavy. You don't need much for a ribeye – we cooked it very simply, just seasoning with salt and pepper 30 minutes prior to grilling so the salt can begin tenderizing the meat. You could also rub with herbs and garlic if you want an extra punch of flavor. Ribeye cuts are also easy to portion out and cook, so you can grill one for your family or throw a few on the grill at once to please a crowd.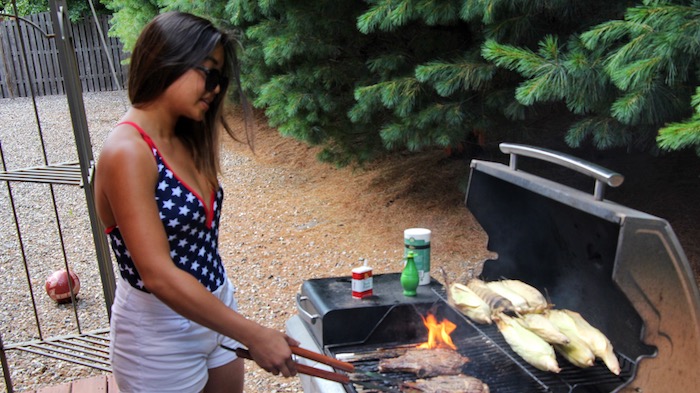 Whether cooking on a gas or charcoal grill, grilling your steak provides maximum taste and optimal tenderness in a short amount of time, as it only took about 5 minutes per side to get our steaks to a nice medium rare. If you're nervous about over or undercooking your beef, try using an instant read thermometer. You can insert it horizontally into the side of the thickest part of the steak. Aim for between 145°F for medium rare and 160°F for medium.
For more cooking tips and summer grilling inspiration, visit BeefItsWhatsForDinner.com.
Grilled Ribeye Steak and Watermelon Salad (Sponsored)
Ingredients
2 ribeye steaks
1/2 a large or 1 small watermelon, cut into large slices
1/4 cup crumbled feta
Handful of fresh chopped basil
1 lime, juiced
1-2 tsp red chili flakes to taste
Salt and pepper to taste
Instructions
Season the ribeye steak liberally with salt and pepper 15-30 minutes prior to grilling the steak.
Grill the watermelon slices: season with salt, then grill over high heat for 2-3 minutes per side until grill marks develop.
Cut the rinds off the watermelon, then cube into chunks. Toss in a bowl with lime juice and chli flakes, then top with crumbled feta and basil. Set aside.
Grill the steaks: place the steaks on a high heat grill. Cover and grill for about 5 minutes per side for medium rare, or use an instant-read thermometer until the internal temperature is 145°F.
Allow the steak to rest for 5 minutes, then slice against the grain, season as desired, and serve with the watermelon salad.
http://indulgenteats.com/2017/07/19/grilled-steak-watermelon-salad-sponsored/