Bacon Egg and Cheese Breakfast Paratha Taco
October 12, 2017 by Jen Balisi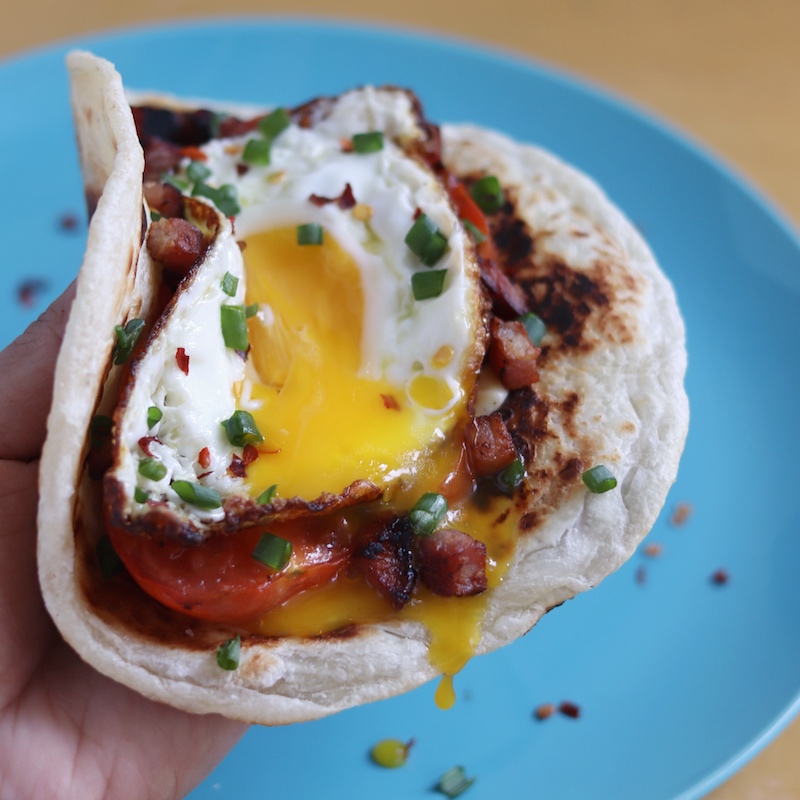 Today is officially my 28th birthday. It feels pretty weird considering I've just made a huge move to the other side of the world, and I'm separated from my family and most of my closest friends. Normally I'd plan a big trip out of the country followed by multiple celebrations for myself across my whole birthday month, but this time others are planning things for me and inviting their friends since I still don't know too many folks here in Hong Kong. It's actually a pretty welcome change from the hyper-planned and borderline stressful life I led in NYC.
Changing for the better is exactly what I wanted to make this move and my 28th year of existence about, which is why I started my birthday by cooking up this breakfast paratha taco and immediately sat down to write the recipe after I finished eating it. I had gotten into a poor habit of letting my NYC social life interfere with writing. Now that I have days to myself in Hong Kong, I'll be cooking up a lot more recipes and posting them here, starting with this one.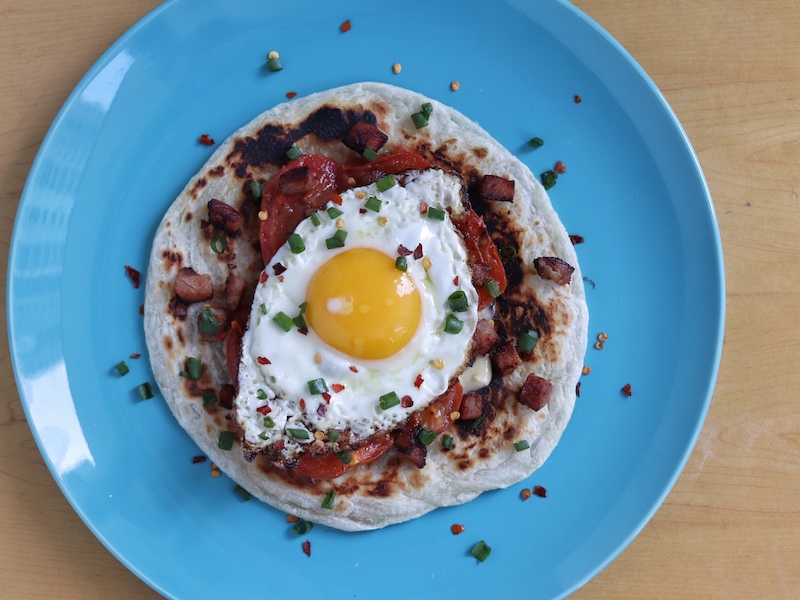 I started my birthday celebrations a night early with a tasting dinner at Wolfgang's, one of many NYC imports here in Hong Kong. I'll try to write more about Wolfgang's some other time, but the best part about going to a tasting event where there's way too much food is that it always means leftovers. In this case, it meant leftover steakhouse bacon, which is the absolute best kind of bacon you can get in my opinion.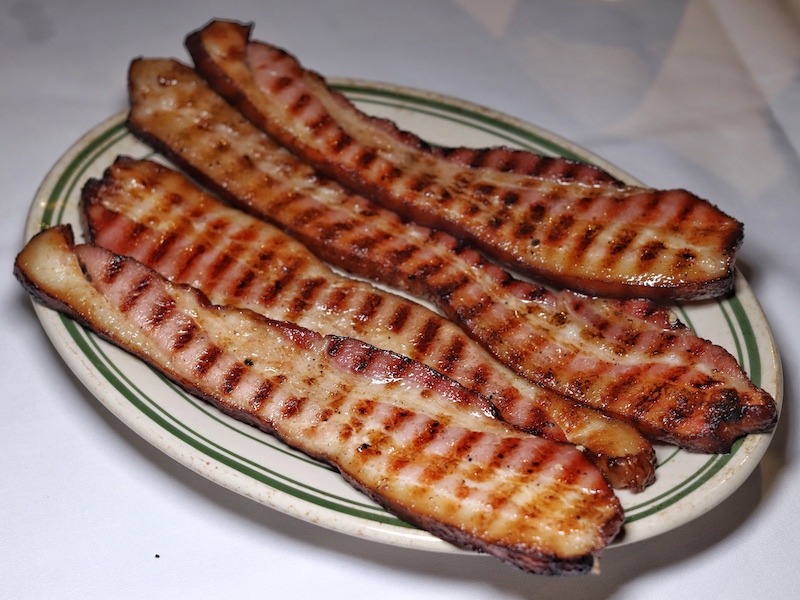 Thick slab bacon has an irresistible smoky flavor and is fatty in the best way possible with those wonderful caramelized edges. I had found some cheap frozen paratha (Indian flatbread) at the grocery story earlier in the day, so having this bacon inspired me to make this breakfast paratha taco inspired by Tac N Roll, a taco spot near my old apartment in the East Village.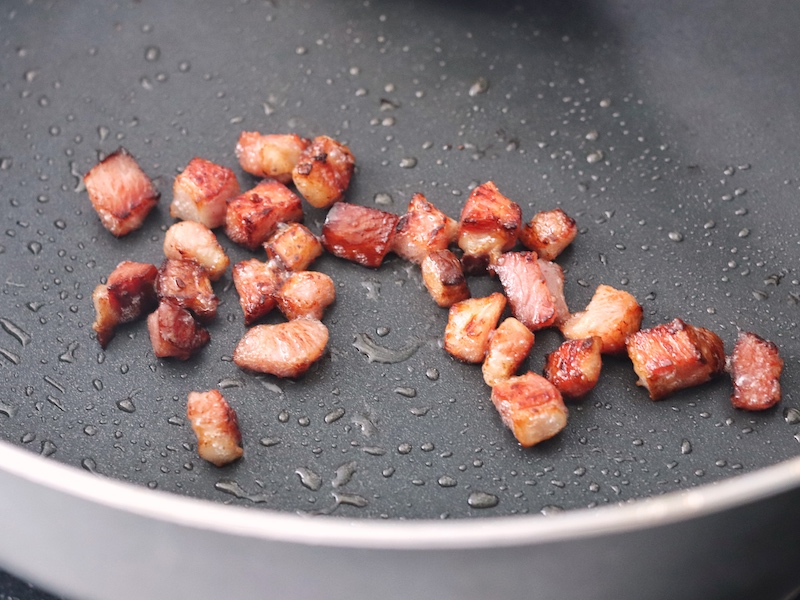 Of course, most people won't be dining at a steakhouse the night before making this, so just substitute it with regular thick-cut bacon or find a local butcher that sells the slab bacon. Either way, you're going to want to cook it up until it's nice and crispy and dice it into small pieces so it's easier to take bites of your taco without struggling to bite into a slice of bacon.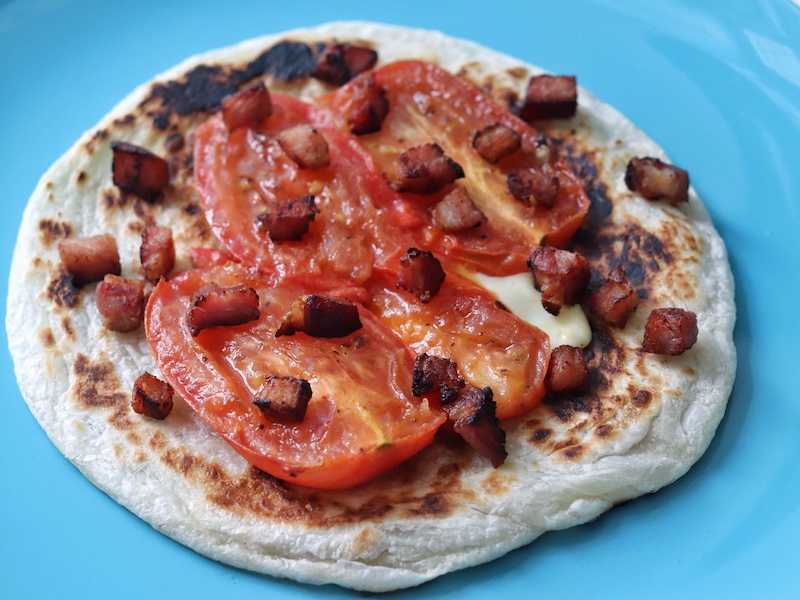 I then added sliced plum tomatoes to the pan to add a cut of acidity since this breakfast paratha taco is pretty rich – I generally prefer grilled tomatoes when tomatoes are out of season but you can easily use raw ones as well. I would dice them and sprinkle them on like the bacon if you plan to use raw tomatoes so it's easier to eat.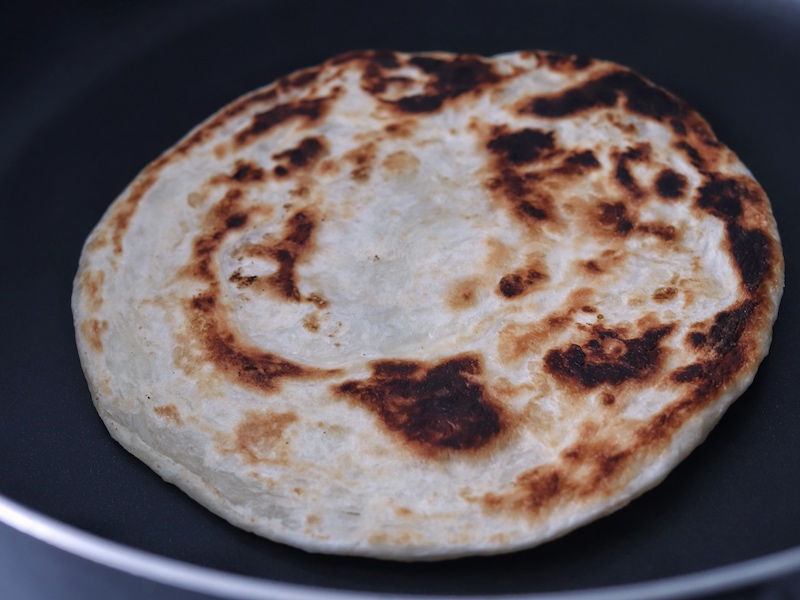 Next cook your paratha per the package directions. I'm not skilled enough to make paratha from scratch so I just used a frozen one and it was still very tasty, puffing up as it cooked with nice charring and some flakiness. While it's still hot, you want to add the cheese right onto the paratha so it can melt. I used American cheese, which I firmly stand by being the best cheese with bacon and eggs, but I GUESS you can substitute with whichever cheese you prefer 🙂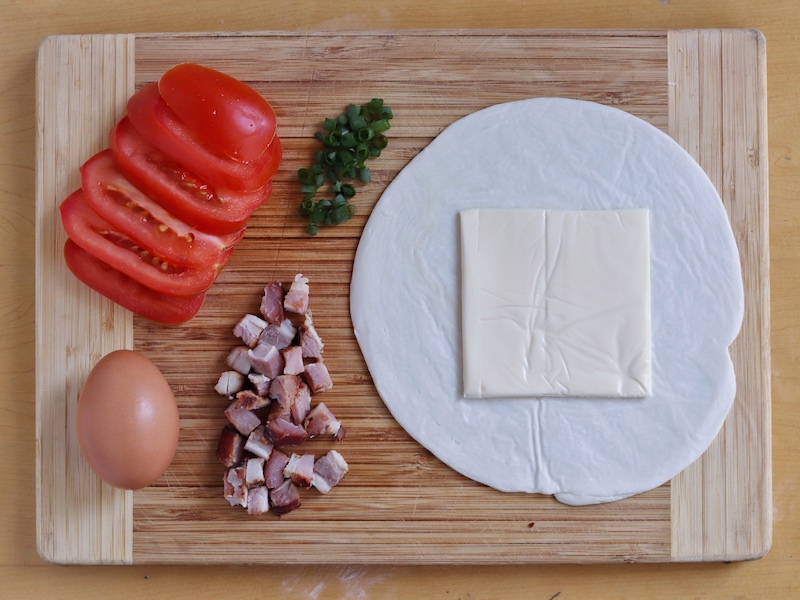 Once your breakfast paratha taco is assembled, garnish with some chopped scallions and if you like heat like I do, sprinkle on some crushed red pepper. Grab this baby with your hands and dip it into the runny yolk that's bound to end up on your plate. This is definitely perfect for curing that hangover so bookmark this one for your next party weekend 😉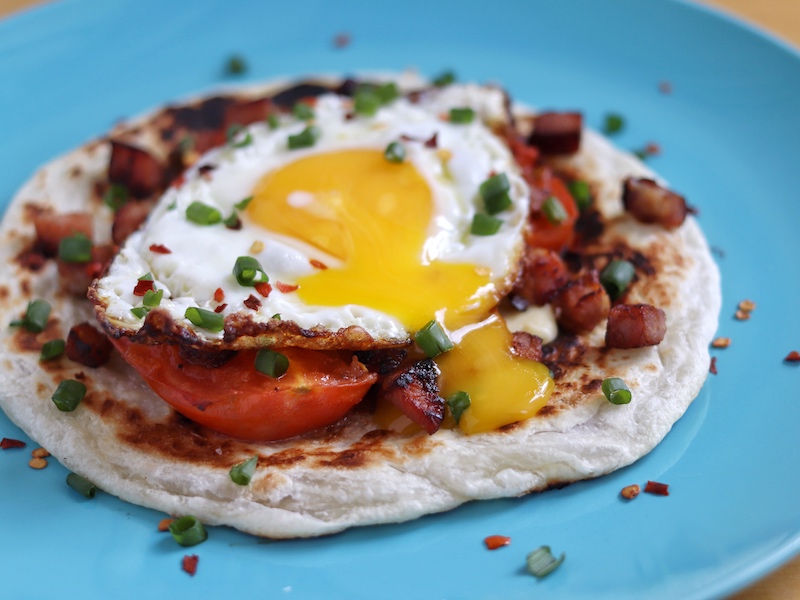 Bacon Egg and Cheese Breakfast Paratha Taco
Put a spin on your average breakfast with this bacon egg and cheese breakfast paratha taco, which uses a buttery and flaky Indian flatbread as its base
Ingredients
1 frozen paratha
1 egg
1 slice of thick-cut bacon or 1/2 slice of thick slab bacon
1 slice of American, cheddar, pepper jack, or Swiss cheese
1 plum tomato, thinly sliced if cooking or diced if leaving raw (see instructions)
1 heaping tbsp chopped scallions
1 tsp crushed red pepper
Salt and pepper to taste
Instructions
Prep your tomatoes: if you prefer the flavor of cooked tomatoes, thinly slice your plum tomato. Otherwise, dice the tomato and set aside.
Cook the bacon over medium-high heat until cooked through and crispy on the edges. Dice into small pieces, and if using thick slab bacon, transfer diced bacon back into the pan and cook until caramelized all around. Transfer to a paper towel-lined plate and set aside.
If you are cooking your tomatoes, add a tbsp of olive oil to the pan and cook tomatoes for 1 minute per side, seasoning with salt and pepper to taste. Set aside.
Wipe the pan clean with a paper towel and add the frozen paratha, cooking according to package instructions or until browned on both sides.
Transfer the cooked paratha to your serving plate and immediately top with the slice of cheese.
Add 1 tbsp olive oil to the pan and fry the egg over medium heat until egg white is set, about 4-5 minutes, seasoning with a pinch of salt during cooking.
Distribute the tomatoes and bacon evenly across the paratha, then top with the fried egg.
Garnish with chopped scallions and crushed red pepper and enjoy!
http://indulgenteats.com/2017/10/12/bacon-egg-cheese-breakfast-paratha-taco/