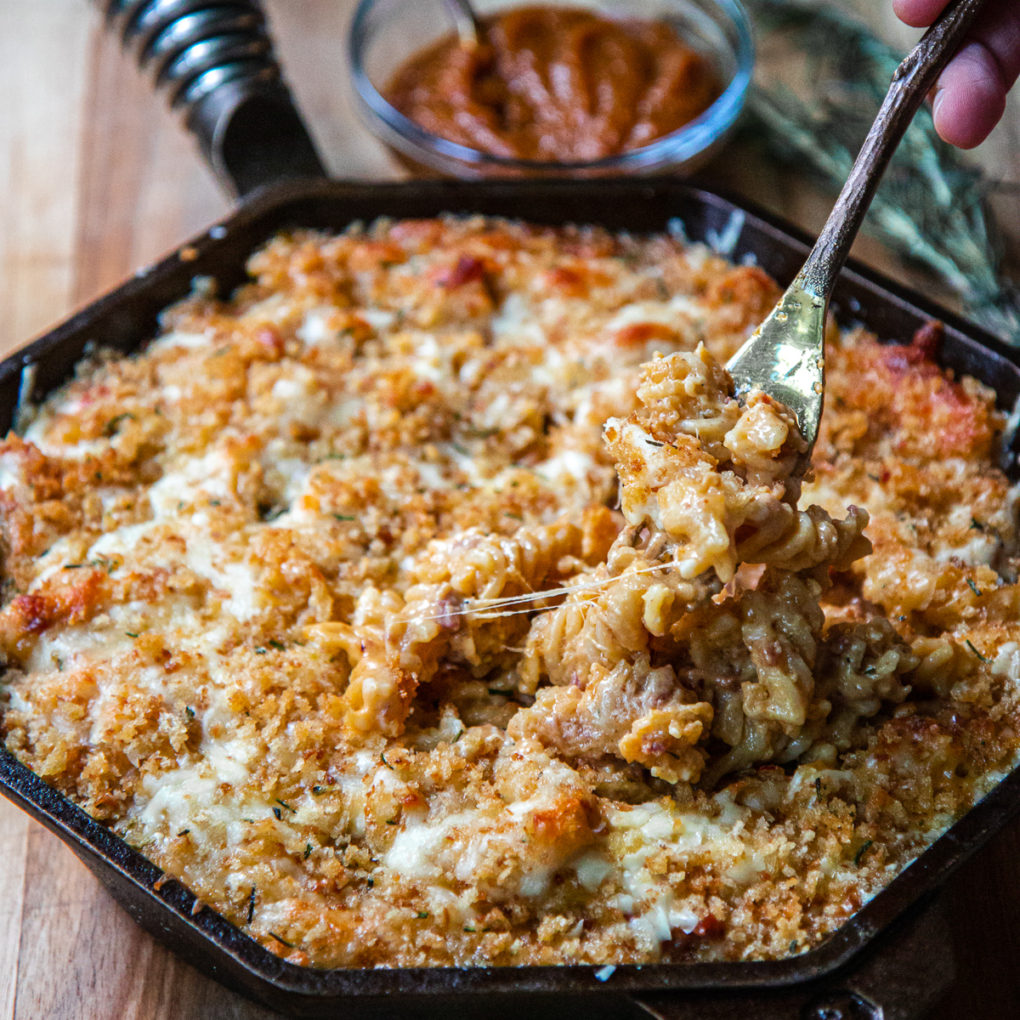 Call it biased for being born in October, but fall is my absolute favorite season. From sweater weather to the crisp smell in the air of the fall leaves that are changing into beautiful hues of orange and red, autumn is a magical time of year. And nothing brings that magic to life more than the seasonal return of pumpkins. Yes, the return of fall means every basic chick falling in line for PSLs and posing with pumpkins in an orchard, but can you blame them? Pumpkin is one of the most unique and wonderfully rich and comforting flavors, so I've found ways to include this flavor not only in satisfying my sweet tooth (helloooo pumpkin doughnuts), but in savory meals as well. I've made variations of pumpkin pasta several times now, but this creamy pumpkin mac and cheese with Italian sausage that I first made back in 2014 is easily my favorite way to celebrate fall flavors.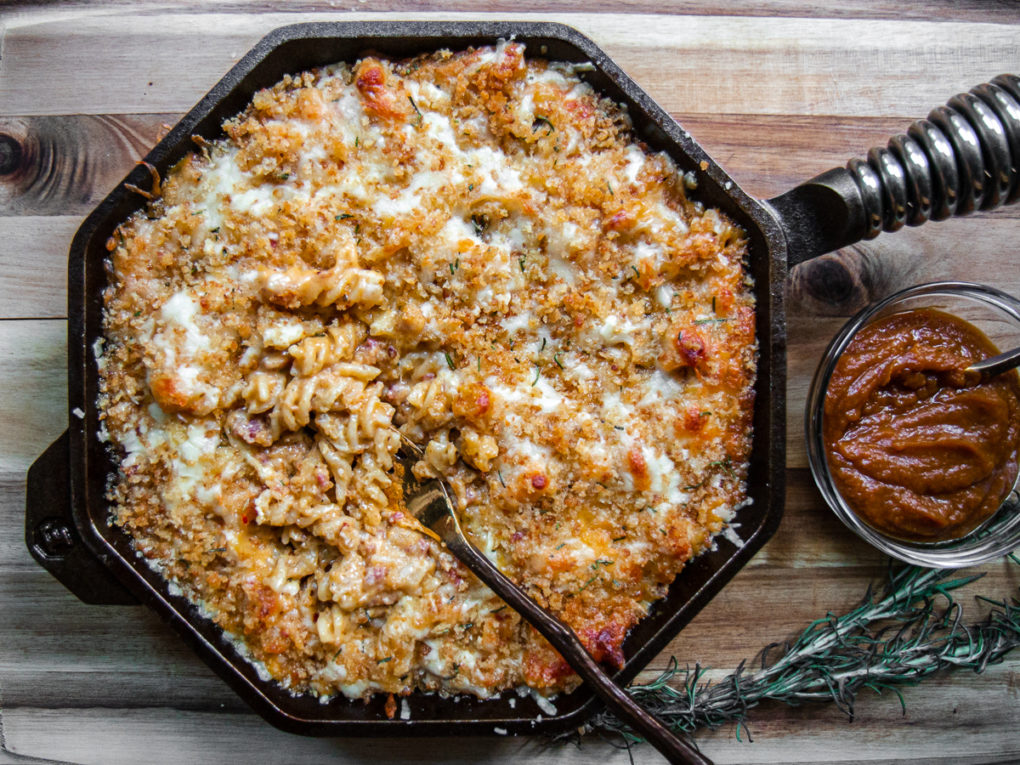 This pumpkin mac and cheese has the richness you crave as the temperatures turn down thanks to a creamy pumpkin béchamel sauce that gets a mountain of grated Parmesan, aged cheddar, and mozzarella melted into it to become a cheesy Mornay sauce. The nuttiness of the Parmesan perfectly complements the pumpkin purée while the aged cheddar and mozzarella melt into the sauce to give it extra creaminess and flavor.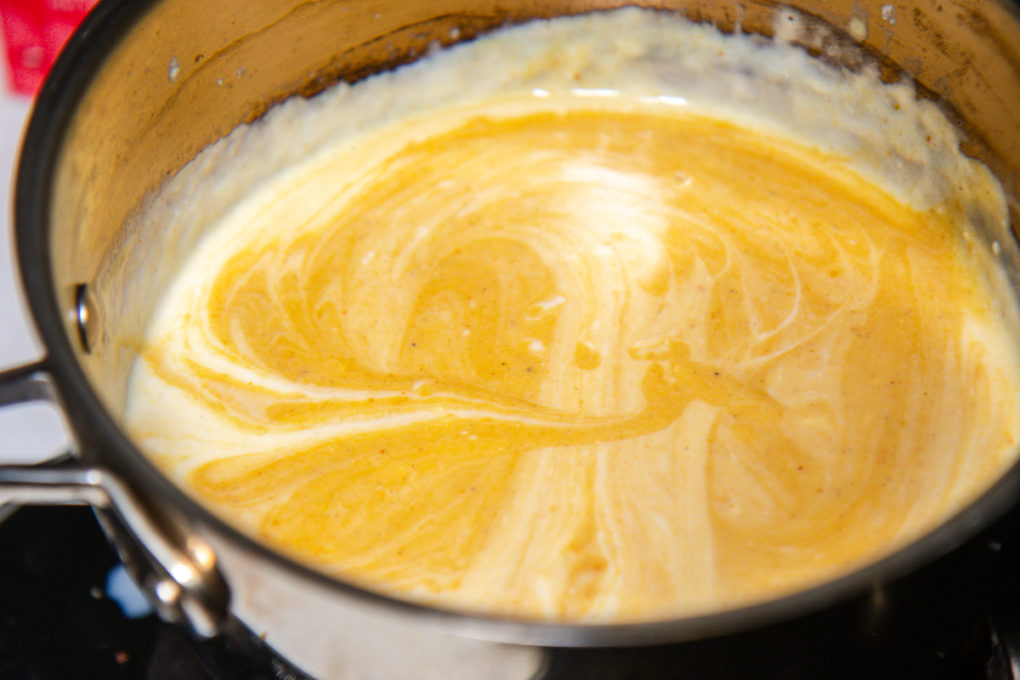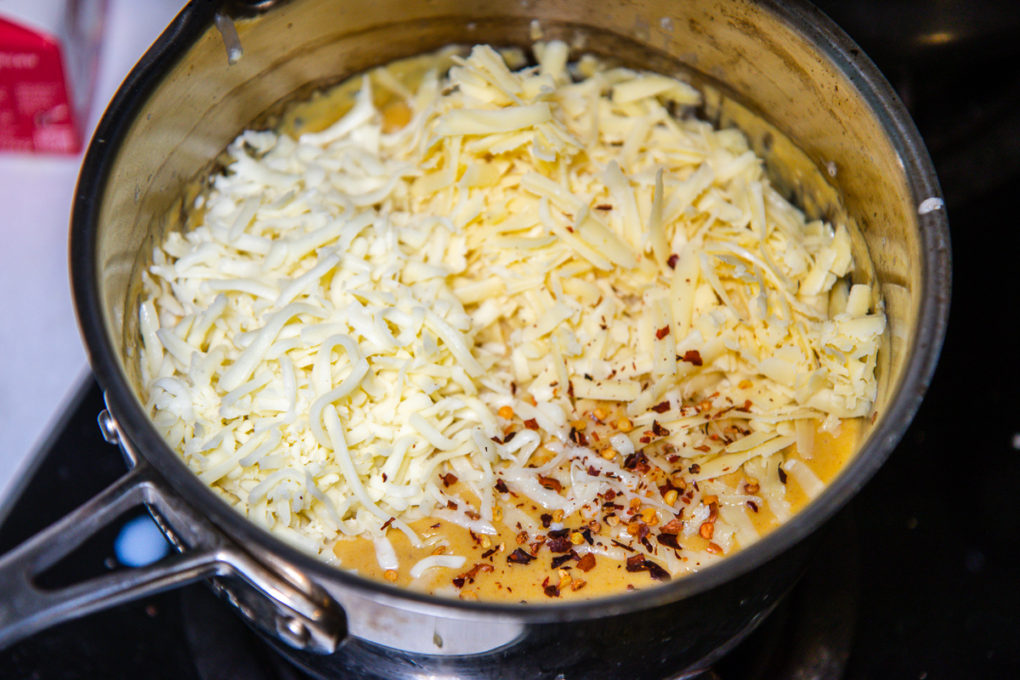 2019 Update: I made this again with pumpkin pie filling instead of pumpkin puree as I had a leftover can I needed to use up and it still turned out delicious, just a little sweeter. If you want to keep this more savory or aren't a big fan of pumpkin pie spice, just use the pumpkin puree alone for a more subtle nod to the seasonal squash. If you enjoy a sweet-savory dish that's heavier on the fall spices, you can opt to use pumpkin pie filling – just make sure not to add additional nutmeg or pumpkin pie spice as called for in the recipe.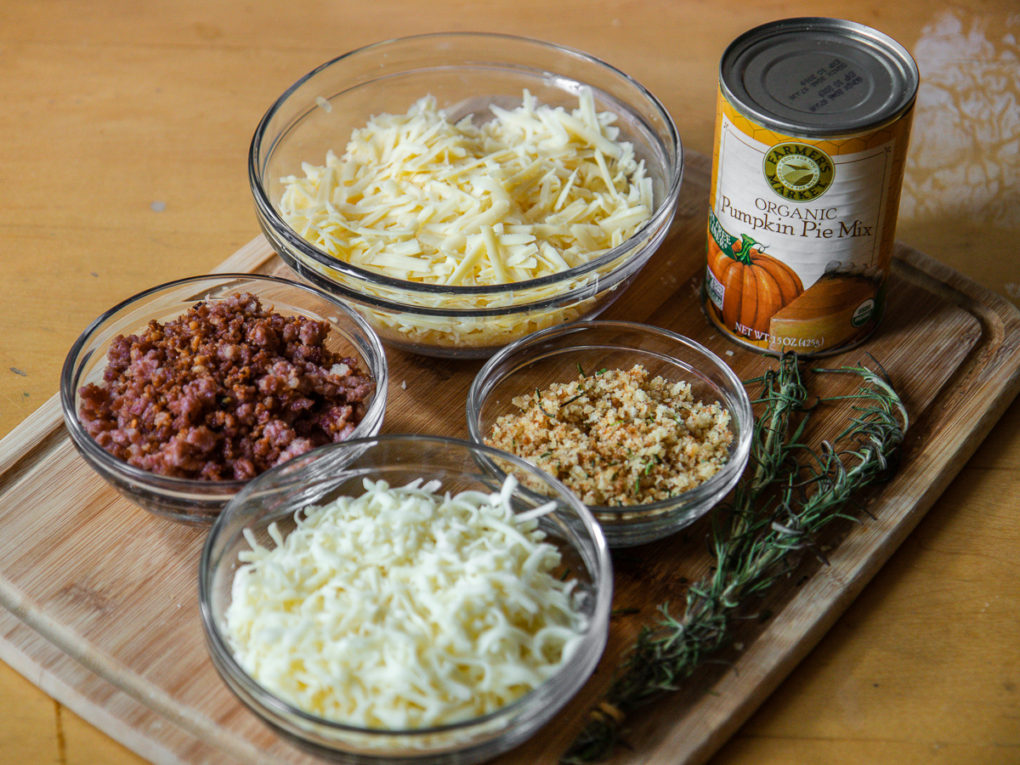 The real secret star of this dish is the savory, meaty Italian sausage to balance out the natural sweetness of the pumpkin. I prefer a spicy Italian sausage for a bit of heat to cut through the rich flavors. You'll want to remove the sausage from the casing and break it apart.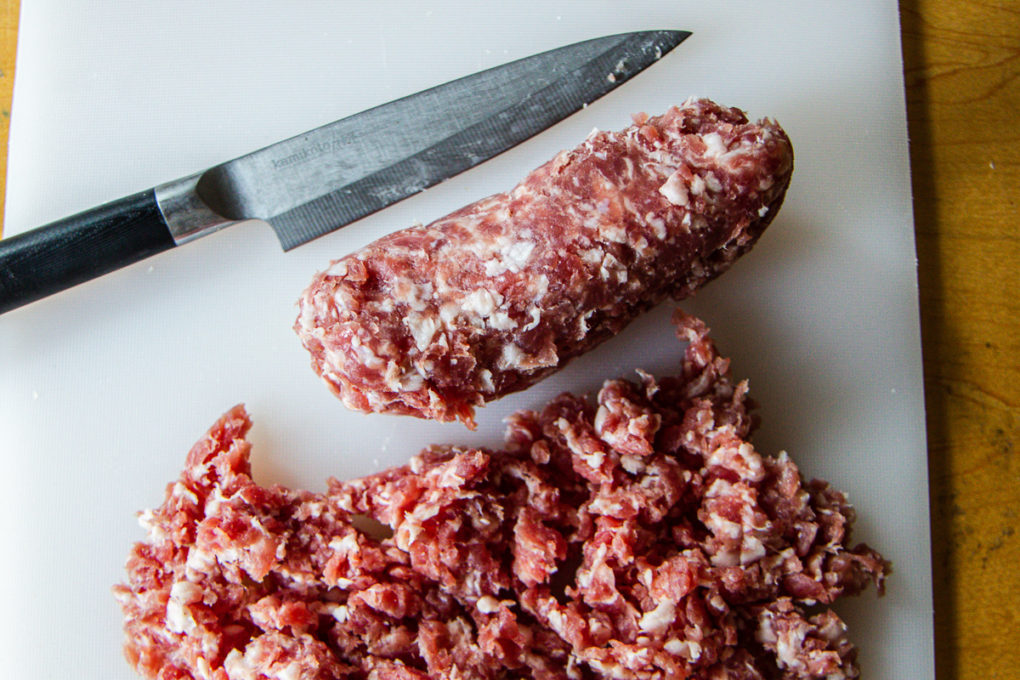 Finally the pumpkin mac and cheese is topped off with breadcrumbs tossed with melted butter and fresh rosemary to provide that crisp crunchy topping that's the perfect textural contrast to the ooey gooey cheese underneath for the ultimate fall comfort food. That's right – this dish will maintain the creaminess you get from stovetop mac and cheese thanks to the pumpkin bechamel sauce, so don't worry about it drying out. The extra time baking in the oven is so worth it for the coveted crispy outer layer that everyone will be fighting over!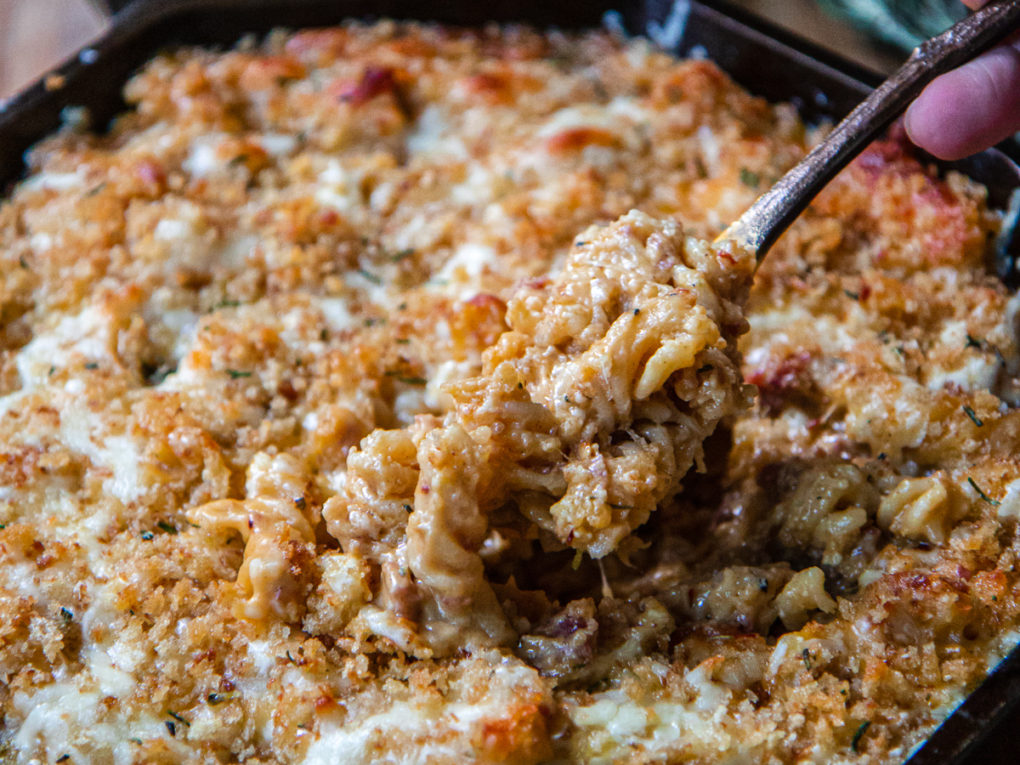 A couple of VERY important steps for not effing up your bechamel:
1. Your milk should be HOT. As in so hot it's almost boiling with bubbles on the edges but not actually boiling.
2. Don't stop stirring.
If you fail to do either of these, your bechamel will likely burn on the bottom of the pan. So heat up your milk and keep on stirring and whisking and you'll end up with a sauce with a body like Beyoncé in it -it's worth it!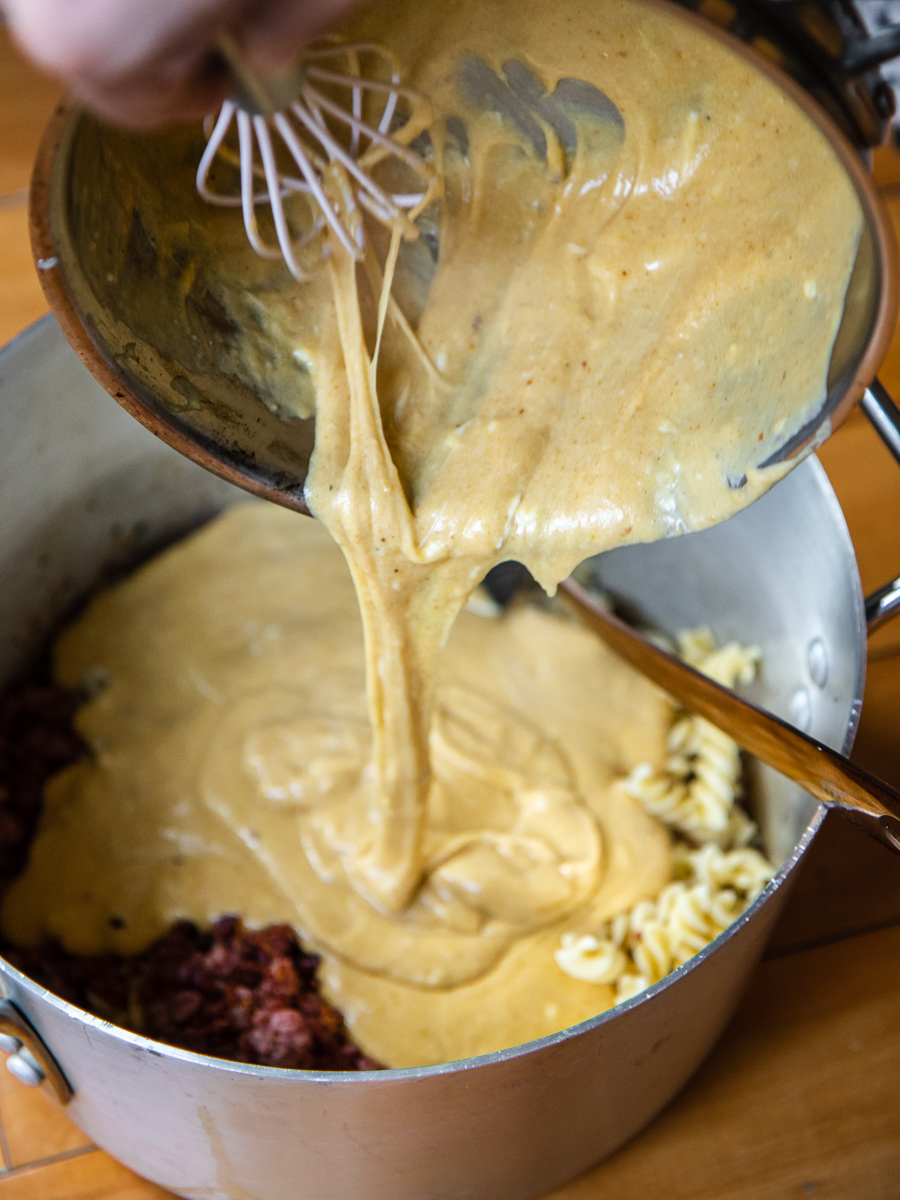 If you feel that making the bechamel sauce is just too much work though, you can easily skip it and just stir the pumpkin purée into 2 cups of milk in a skillet over medium, then stir in all of the cheese and combine with the pasta to evenly coat. But I personally love making a true bechamel and find that it makes all the difference in maintaining that extra creamy goodness in your final pumpkin mac and cheese. This recipe is based on making a full baking pan worth of pumpkin mac and cheese with an entire box of pasta, but you can easily divide the recipe if you want to make a smaller portion. I made half the recipe to fit inside my Finex cast iron skillet and fed 4 people to great results. Save this recipe by pinning the image below!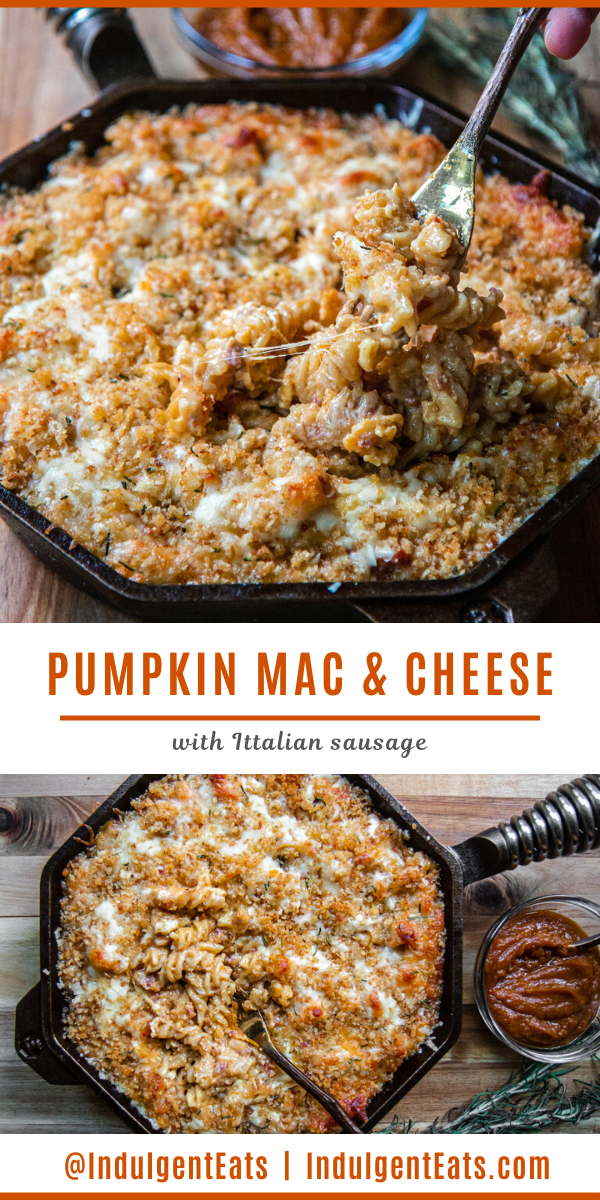 Enjoy the flavors of fall with a comforting pumpkin mac and cheese with Italian sausage, a 3 cheese pumpkin mornay sauce, and rosemary breadcrumbs for a creamy dish perfect for Thanksgiving or any cold day.
Ingredients
1 lb. sweet or spicy Italian sausage, removed from the casing
4 oz. grated Parmesan cheese
6 oz. shredded aged cheddar (will melt better if you use a block of cheese then shred yourself)
4 oz. shredded low-moisture mozzarella
1/2 cup panko breadcrumbs
2 tbsp. unsalted butter
1 heaping tbsp. chopped fresh rosemary or sage
For the pumpkin bechamel:

4 tbsp. butter
5 tbsp. all purpose flour
1 quart whole milk
15 oz. can of pumpkin purée or pumpkin pie filling for a sweeter mac & cheese
1 tbsp. pumpkin spice (optional, do not include if using pumpkin pie filling)
1 tsp. nutmeg (do not include if using pumpkin pie filling)
2 tsp. salt, more to taste
2 tsp. fresh ground black pepper, more to taste
1 tsp. paprika
1 tsp. red pepper flakes, more to taste
Instructions
Preheat the oven to 400 degrees F.
Boil a large pot of water and cook your pasta according to the box directions, but stop cooking the pasta 2 minutes before the recommended time (the pasta will cook more in the oven so you want to undercook it for now). Drain the pasta and set aside.
Remove the sausage from it's casing and break it up with a knife into smaller pieces.
Heat 1 tbsp olive oil in a skillet over medium high heat and cook the sausage for 8-10 minutes, using a spatula or wooden spoon to continue to break down the sausage into tiny pieces and stirring until the sausage is evenly cooked through and browned. Set aside.
In the pot you cooked your pasta in, heat the milk until bubbles begin to form, leaving the heat on low to keep the milk hot while you make the roux.
In a heavy bottomed saucepan, melt 2 tbsp. butter. Combine the herbs with the panko breadcrumbs in a bowl and top with the melted butter, stirring until evenly coated. Set aside.
In the same saucepan, melt the remaining 4 tbsp. butter over medium-low heat. Add the flour and whisk constantly until smooth, forming the roux for your bechamel. Continue whisking and cooking for 2-3 minutes until the roux is a light golden brown.
Add the hot milk, 1 cup at a time, whisking constantly until smooth. Bring to a boil, then lower heat. Stir the pumpkin puree into the bechamel sauce. Add the paprika (and pumpkin pie spice and nutmeg if using) and stir until fully combined. Simmer for 2-3 minutes.
Transfer the bechamel sauce to the large pot and turn the heat to low. Separate a handful each of the parmesan and aged cheddar cheese and set aside, then add the rest of the shredded cheeses to the pot and stir until fully melted. Taste the bechamel and add salt, pepper, and red chili flakes to your liking.
Add the cooked pasta and cooked Italian sausage and stir until fully combined.
Transfer the mac and cheese mixture to a baking pan (or cast iron skillet if making a smaller portion) and top with the reserved Parmesan and aged cheddar. Sprinkle the breadcrumbs evenly across the shredded cheese.
Bake the mac and cheese for 20-30 minutes until the top is a nice golden brown. Remove from the oven and let sit for 3-5 minutes to let the cheese inside set, then serve and enjoy.
Notes
If you make this recipe, I'd love to see the final product. Tag your photos on Instagram with #indulgentrecipes and @indulgenteats so I can see them!
http://indulgenteats.com/2014/09/12/pumpkin-mac-cheese-italian-sausage/