Spaghetti alla Carbonara with a Yolk on Top
May 20, 2014 by Jen Balisi
Oh Carbonara, how I love thee. This creamy pasta accented by Parmesan or Pecorino cheese and bacon is rich and delicious, but until I started to learn how to cook myself, I had no idea that the thick and heavy version I've been used to eating is actually not the real deal. Authentic carbonara uses no cream at all – instead, raw eggs are quickly stirred into the piping hot noodles with grated cheese to create that creamy sauce carbonara is best known for. In preparation for the Brooklyn Half marathon over the weekend (more on that in a later post!), I decided to try out making spaghetti alla carbonara with pancetta as part of our last carbo loading session the night before the race, and it came out to successful results. I also made it again just last night with thick cut bacon and a fresh bucatini from Di Palo's in Little Italy (one of my favorite places in the city) so you know this recipe is tried and true.
The trick to no cream carbonara isn't so much about technique as it about timing. So long as you time things right and get everything else prepared by the time your pasta is done cooking, even a truly amateur cook can create a perfect spaghetti alla carbonara.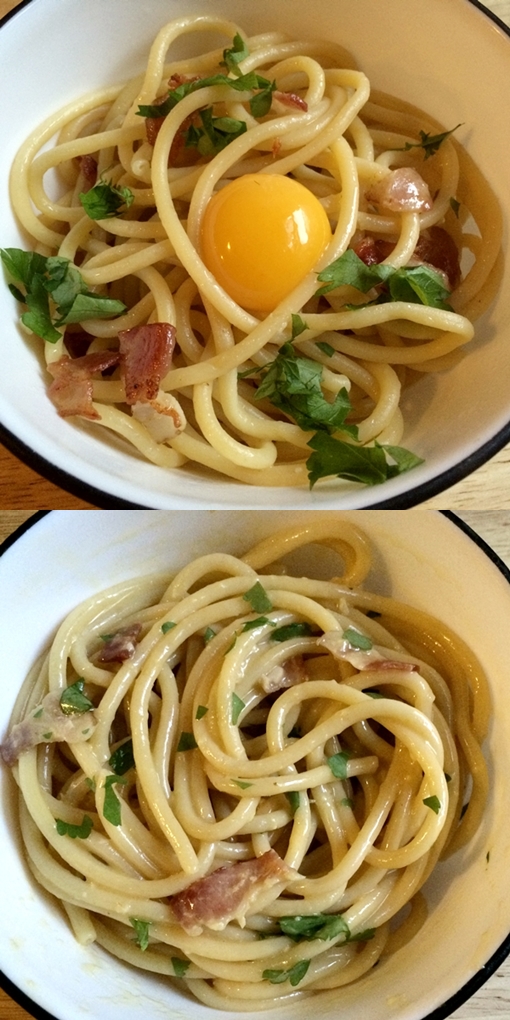 While I used a fresh bucatini (my personal favorite pasta) the second time I made this, a dry store-bought thick spaghetti is still a perfectly acceptable vehicle for the carbonara sauce. I'm not sure that a rigatoni or other tubular pasta would work as well, simply because there is less surface area in the noodles to cook the egg as you stir, but if you try it out with successful results I'd love to hear what you did in the comments. For the pork, if you can get your hands on guanciale, then you're going the absolute authentic route, but pancetta or a thick cut bacon will also still provide a tasty dish.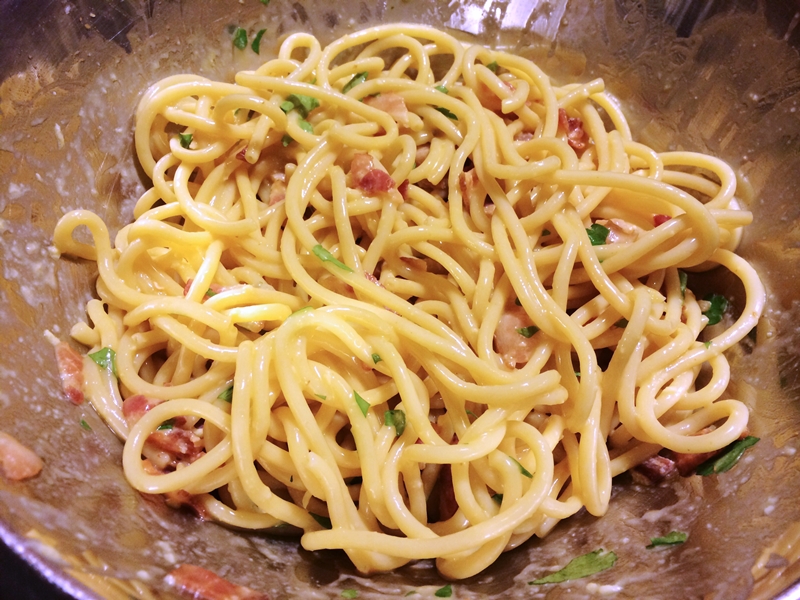 While I separated out the egg yolk mostly for pictures, you can easily just scramble all of the eggs together and combine everything in one large mixing bowl to come up with the exact same taste. The single egg yolk on the bowl is sure to impress, however, so I would definitely opt to go this route if it's date night or you're playing dinner party host.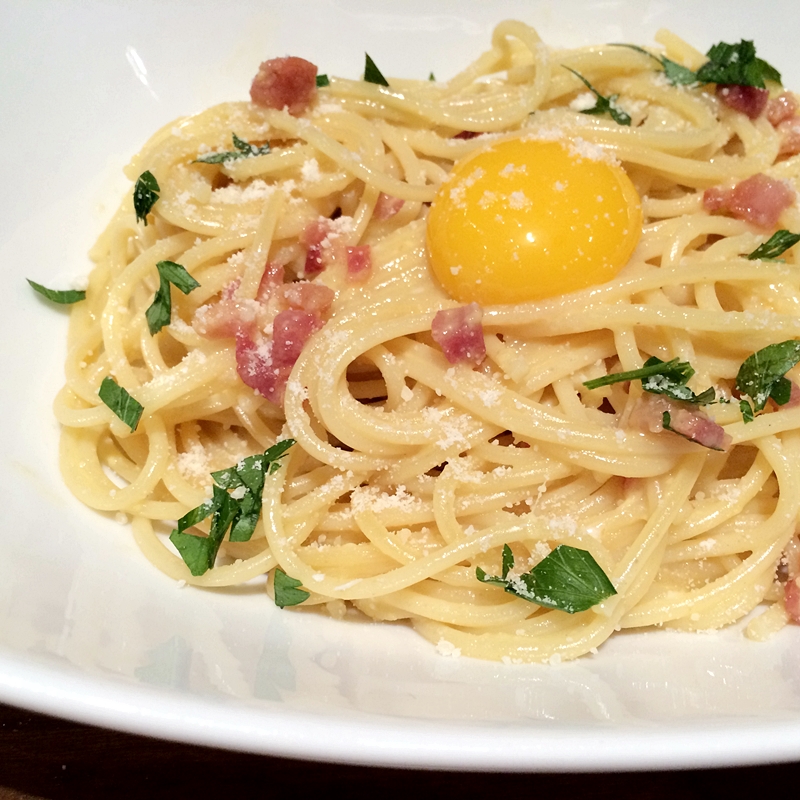 Spaghetti alla Carbonara with a Yolk on Top
Each bowl of spaghetti alla carbonara gets topped with an egg yolk to impress guests before it all gets stirred together with the hot pasta to create a rich and decadent sauce.
Ingredients
1 lb. thick spaghetti, dry or fresh
5 room-temperature eggs (soak them in a bowl of warm water if they're straight from the fridge)
4-6 oz. guanciale, pancetta, or thick cut bacon, diced
1 tbsp. olive oil
1 1/2 cups of fresh grated Parmesan Reggiano or Pecorino (or a blend of both)
1 handful fresh flat parsley, chopped
Salt and fresh ground pepper
Instructions
Boil a large pot of water.
While the water is boiling, chop the fresh parsley and set aside, then prepare the eggs. Separate the egg whites for 4 of the eggs into a mixing bowl, setting aside the yolks on a large plate or in separate bowls or cups (you want to keep each yolk separate so you can easily scoop them up to top each bowl of pasta). Take the last egg and scramble it into the 4 egg whites in the mixing bowl until well combined. Add 1 cup of the grated cheese to the mixing bowl and stir together with a fork or whisk to combine, then separate the egg mixture evenly into your 4 final serving bowls.
Once the water in the pot is boiling, add a large pinch of salt, then add your box of dry spaghetti and cook according to the package directions, usually 9-11 minutes until al dente (if using fresh pasta, DO NOT start cooking the pasta until AFTER you complete the next step and finish cooking the meat, otherwise your timing will be off).
While the dry pasta is cooking, heat 1 tbsp. olive oil in a large non-stick skillet over medium high and add the guanciale/pancetta/bacon. Cook while stirring for about 6-8 minutes until the meat starts to brown and the fat renders, then turn heat to low. If using fresh pasta, start cooking the pasta now, cooking for about 4 minutes or according to package directions.
Once the pasta is cooked, drain well in a colander then immediately transfer drained pasta to the large skillet, tossing in the hot pork and fat.
Use tongs to separate pasta and drop a serving of hot pasta and pork into each serving bowl, then quickly top with an egg yolk. Serve immediately and have each person break the yolk and stir everything together quickly and continuously until the hot pasta cooks the eggs and cheese into a creamy sauce. Sprinkle with additional cheese, a few cracks of fresh ground pepper, a sprinkle of salt, and fresh parsley and enjoy.
Notes
If you make this recipe, I'd love to see the final product. Tag your photos on Instagram with #indulgenteats and @indulgenteats so I can see them!
http://indulgenteats.com/2014/05/20/spaghetti-alla-carbonara-topped-egg-yolk/